The safe Smart crosswalk is designed to improve safety on public roads, the main advantages of this complex:
Autonomy – complete with solar panel, inverter, battery, the entire set of these devices allows you to install the complex anywhere;
Modern technologies – Camera for motion detection and video recording in case of an accident, control board.
LED technology – LED projector, tape, illumination of the sign, provide attention at any time of day and weather conditions;
A modern city with heavy traffic and pedestrian traffic requires special attention from all road users. An automated lighting solution at a pedestrian crossing is an integral part of a new approach to the organization of a safe traffic process.
To solve this problem, we offer autonomous systems "Safe pedestrian crossing." LED-lamp, equipped with motion sensors, illuminates the transition at the approach of a pedestrian and goes out after crossing the road. This allows drivers to determine the pedestrian crossing in a timely manner, and the mode of indication of the traffic light activates the usual reaction to the constant blinking of the traffic light. The surveillance camera only works while pedestrians cross the pedestrian crossing, which allows you to accumulate only the necessary information.
The LED LED system illuminates the roadway for all road users, which is especially important on poorly lit sections of the road.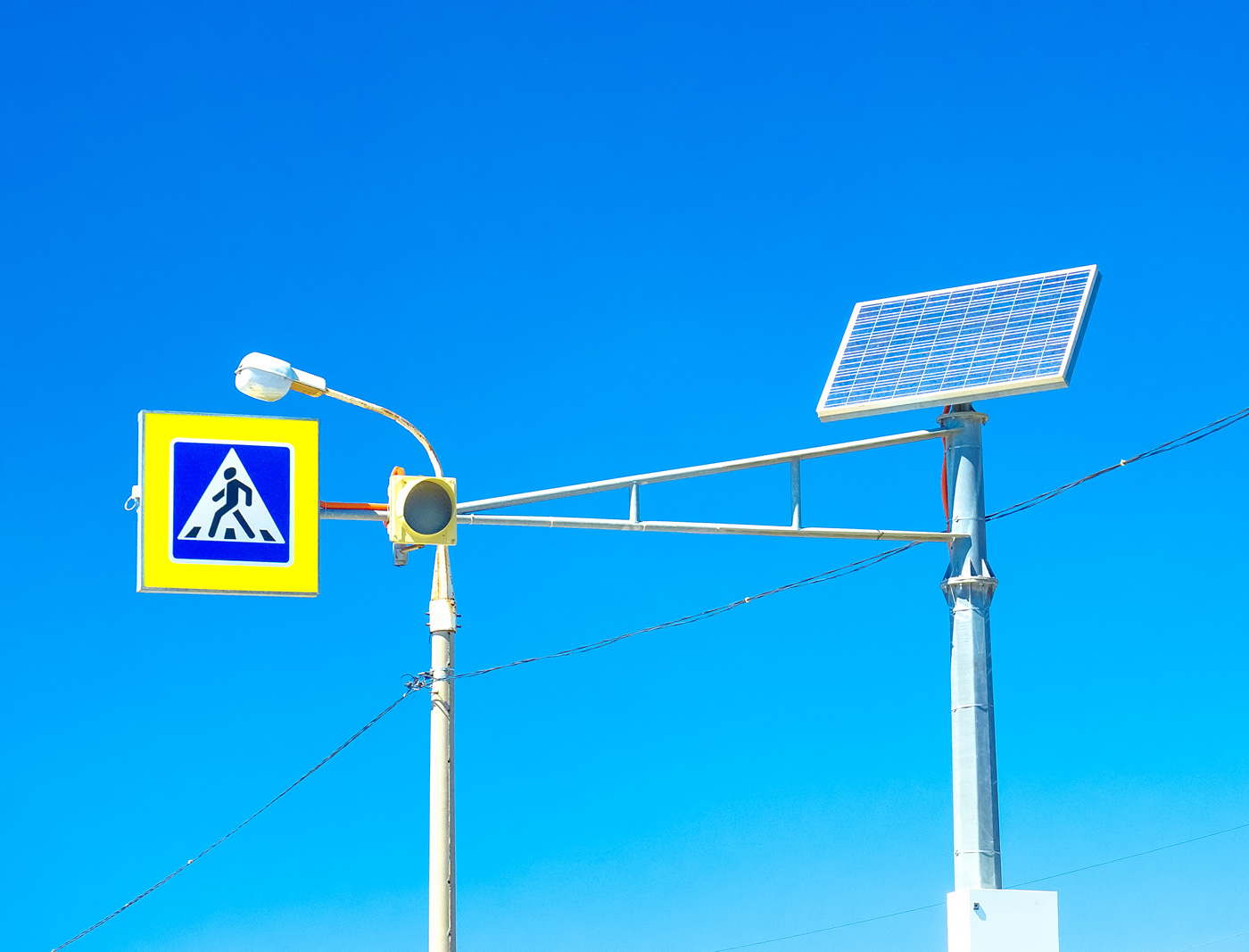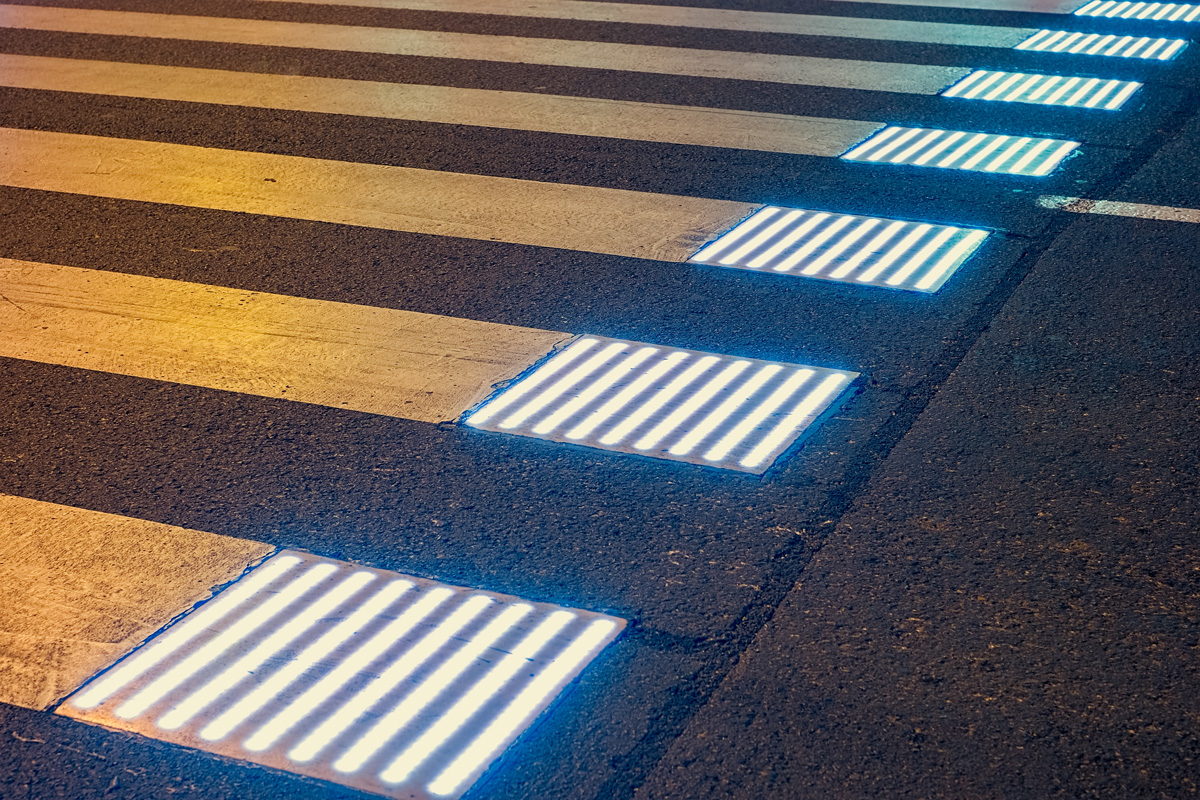 Benefits of our crosswalk
Autonomous lighting (Fast installation anywhere, and there is no need for a city power network);
Active (press the button) and passive mode of operation (infrared sensor or fixation camera is turned on when the pedestrian approaches the sign, false positives or);
Wireless transmitter that allows you to work synchronously with the pedestrian sign of the opposite side, there is no need to crush or spoil the road surface
LED technology (spotlight, sign illumination, tape) allows you to bright and economical, increase driver care and ensure safety;
Introduction of the most modern technologies;
Own development has a patent and a certificate of CT KZ, 90% local content.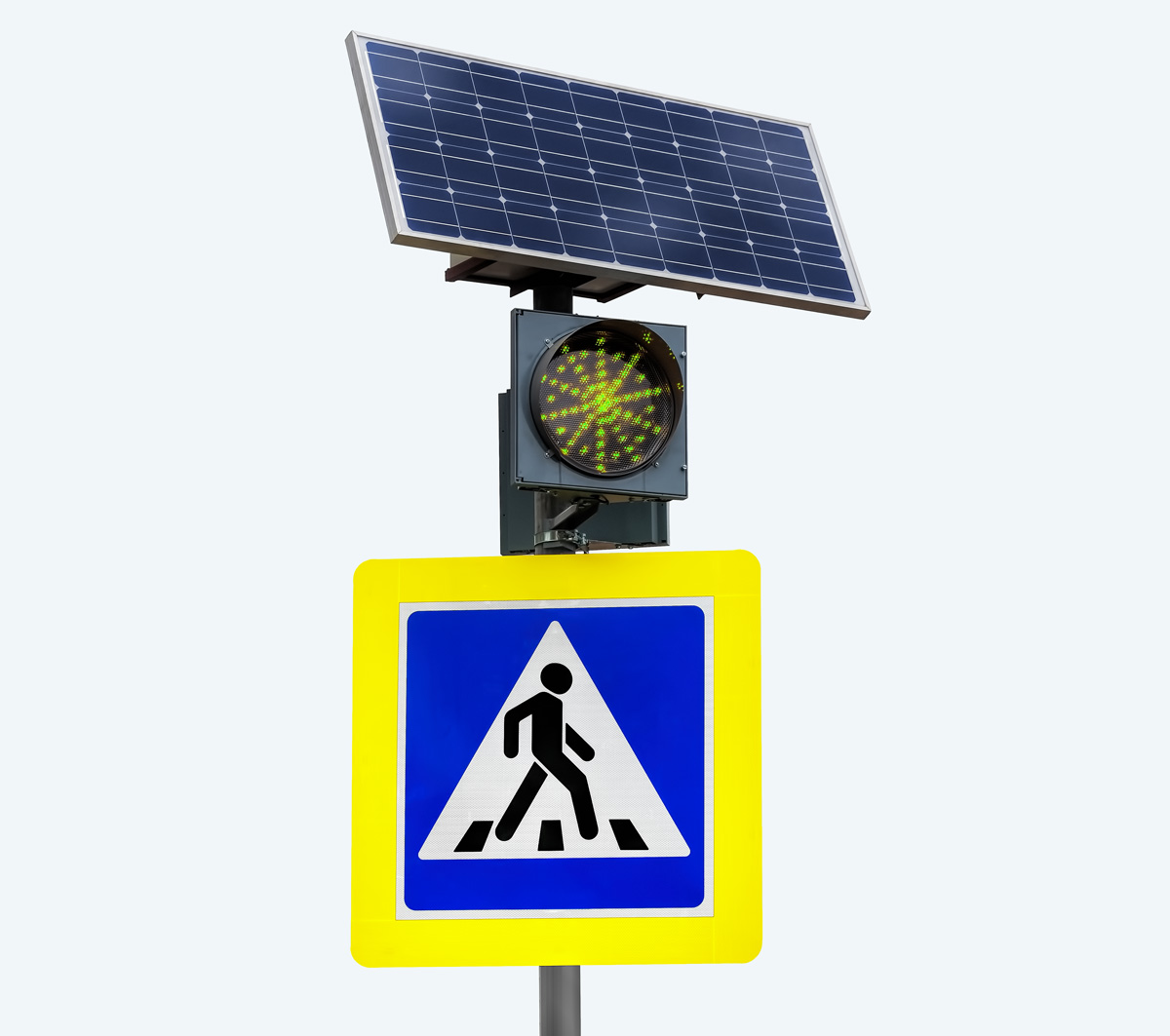 OPTION 1
Solar panels – 50 watts;
Control box (Battery, solar controller, control module);
Infrared sensor;
Backlit pedestrian sign;
LED Strip Light;
Wireless transmitter;
OPTION 2
Everything from Option # 1
+ additionally installed
Camera fixing pedestrians and video recording in case of an accident
Helium batteries
Mechanical button for safe transition
OPTION 3
Everything from Option 2
+ additionally installed
LED spotlight for the projection of "STOP" on asphalt
Touch (vandal) button for a safe transition
Online monitoring of the complex